Lucia dos Santos (1907 – 2005)

Lucia dos Santos, the oldest Fatima visionary, was born on 22 March 1907 in the hamlet of Aljustrel in the Province of Fatima, Portugal. Her parents were Antonio dos Santos and Maria Rosa. Lucia was the youngest of seven children, six girls and one boy.
The dos Santos were a God-fearing, practicing Catholic family, prayer being an integral part of their lives. Though peasants, they were of modest means, and owners of property. No poor person was turned away from their door without a good meal.
Happy and quick witted, young Lucia picked up her catechism from listening to her mother teach it to her siblings.
She was also an innocent, candid soul and was allowed to make her First Communion at the then early age of six at which time she was deeply touched by Our Lord. In her words, "I felt transformed in God…From that day on, I lost the attraction I was beginning to feel for the things of the world…"
With her cousins, Francisco and Jacinta, she pastured their families' sheep. Her cousins looked up to her, and trusted her implicitly.
When Our Lady appeared to the three on 13 May 1917 at Cova da Iria, Lucia, then aged ten, naturally took the lead in addressing the apparition and was always the sole interlocutor. During the second apparition, she was told that she was to remain on earth for some time, while her cousins would be soon taken to heaven.
After the apparitions and the death of her cousins, Lucia was admitted as a pupil at the school of the Sisters of Saint Dorothy at Vilar. In 1925 she was accepted as a postulant in the congregation's convent of Tuy, just over the Spanish border. She was professed as a Dorothean sister in 1934 receiving the name of Sister Maria of Sorrows.
In 1948, she left the Dorothean Institute to enter the Carmel of Saint Joseph in Coimbra where she took the name of Sister Maria Lucia of the Immaculate Heart. On May 13, 1949 she was professed as a Discalced Carmelite.
She returned to Fatima on the occasion of four Papal visits, the last of which was to attend the beatification of her cousins Francisco and Jacinta by Pope John Paul II on 13 May 2000.
Sister Lucia wrote her memoirs, a warm, candid account of all that happened to her and her cousins. 
In English this memoir is entitled, Fatima in Lucia's Own Words.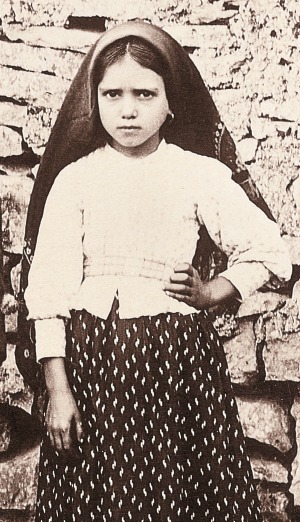 Jacinta Marto (1908 – 1919)

Saint Jacinta Marto was born on 11 March 1910, at Aljustrel. Jacinta was a very busy and lively child. The apparitions aroused in her a deep pity for sinners, and compassion at the thought of what was awaiting them after death – the torments of hell. Therefore, she prayed incessantly for the conversion of sinners, as well as doing acts of penance for them. The Mother of God herself instructed Jacinta in piety during many apparitions to her. During the child's final illness in a Lisbon hospital, Jacinta conversed with Our Lady about the great world events that were to occur around 1940.
On the day before her death she said: "Our Lady will appear again, but not to me. I will die, according to her prophecy." And she died on the 20th of February 1920. She offered her great sufferings for the conversion of sinners, for peace in the world and for the Holy Father. She was canonised by Pope Francis on 13 May 2017.
Francisco Marto (1910 – 1920)

Saint Francisco Marto was born on 11 June 1908, at Aljustrel. Unlike his younger sister Jacinta, he was quiet and reflective. He had deep faith and loved to contemplate. He was caring of others and capable of great sacrifices. In the home of the peasant Martos it was customary for the family to recite the Rosary daily. Piety imbued every aspect of their lives. Everyone worked hard, dawn to dusk. Children from an early age helped their parents with tilling the fields and grazing sheep. His whole life of penance he offered to comfort the Lord Jesus.
Blessed Francisco wanted to receive Holy Communion as soon as possible and to attain eternal joy in heaven. Shortly before his death he was allowed to receive Holy Communion. He died on the 4 April 1919 and was canonised by Pope Francis on 13 May 2017 in Fatima. The body of Blessed Francisco and Jacinta are buried in the basilica of Fatima. Their feast is celebrated on February 20.