Saint Joachim and Saint Anne
Parents of the Most Blessed Virgin Mary
Taken from Butler's Lives of the Saints 1894
ST. ANNE was the spouse of St. Joachim, and was chosen by God to be the mother of Mary, His own blessed Mother on earth. They were both of the royal house of David, and their lives were wholly occupied in prayer and good works. Only one thing was wanting in their union – they were childless, and this was held as a bitter misfortune among the Jews.
At length, when Anne was an aged woman, Mary was born, the fruit rather of grace than of nature, and the child more of God than of man. With the birth of Mary, the aged Anne began a new life: she watched her every movement with reverent tenderness, and felt herself hourly sanctified by the presence of her immaculate child. But she had vowed her daughter to God and to Him Anne gave her back.
Mary was three years old when Anne and Joachim led her up the Temple steps, watched her pass into the inner sanctuary, and then saw her no more. Thus was Anne left childless in her lone old age, and deprived of her purest earthly joy just when she needed it most. She humbly adored the Divine Will, and began again to watch and pray, till God called her to unending rest with the Holy Trinity in celestial glory.
Taken from Butler's Lives of the Saints 1903
God has been pleased by visible effects to testify how much he is honoured by the devotion of the faithful to Saint Anne, who is the great model of virtue to all in the married state, and charged with the education of children. It was a sublime dignity and a great honour for this saint to give to a lost world the advocate of mercy, and at the same time to be the parent of this advocate who would shortly be exalted with unimaginable dignity as the mother of God.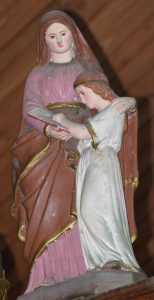 But it was a far greater happiness to be, by the grace of God, the greatest instrument of Mary's virtue, and to be spiritually her mother by a holy education in perfect innocence and sanctity.  St. Anne, being herself a vessel of grace, not only by name, but by the possession of that rich treasure, was chosen by God to form the soul of the Blessed Virgin Mary in perfect virtue – and her pious care of this illustrious daughter was the greatest means of her own sanctification and glory in the Church of God to the end of ages.
It is a lesson to all parents whose principal duty is the holy education of their children. By this they glorify their Creator, perpetuate His honour on earth and sanctify their own souls. St. Paul says that it is by the education of their children that parents will be saved. 3  Nevertheless, we see parents solicitous for the worldly qualifications of their children, and earnest to procure them an establishment in the world; yet supremely careless in nurturing them in virtue, in which alone their true happiness consists.
This reflection drew tears from Crates, a heathen philosopher, who desired to climb to the highest place in his city and cry out, with all his strength: "Citizens, what is it you think of? You employ all your time in heaping up riches to leave to your children; yet take no care to cultivate their souls with virtue, as if an estate were more precious than themselves."4
The Hebrew word Anne signifies "gracious." St. Joachim and St. Anne, the parents of the Blessed Virgin Mary, are justly honoured in the Church, and their virtue is highly extolled by St. John Damascene. The Emperor Justinian I built a church at Constantinople in honour of St. Anne, about the year 550. 1 Codinus mentions another built by Justinian II in 705. Her body was brought from Palestine to Constantinople in 710, whence some portions of her relics have been disseminated in the West. F. Cuper, the Bollandist, has collated a great number of miracles wrought through her intercession. 2 
Two popular shrines to Saint Anne are that of Ste. Anne D'Auray in Britanny in western France, and that of St. Anne de Beaupre near Quebec, where countless mementos hang in thanksgiving for favours and healings granted.
Notes:
READ MORE AT http://www.archive.org/details/livesoffathersm07butluoft
Prayer to St. Anne
Good St. Anne, you were especially favoured by God to be the mother of the Most Holy Virgin Mary, the Mother of Our Saviour.
By your power with your most pure daughter and with her Divine Son, kindly obtain for us the grace and the favour we now seek.
Please secure for us also forgiveness of our past sins, the strength to perform faithfully our daily duties and the help we need to persevere in the love of Jesus and Mary.
Amen.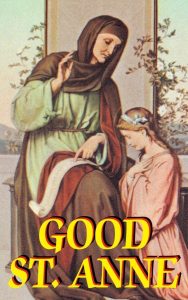 Order a copy of the booklet "Good St. Anne"
and read more about this very special saint and patron.