Child of Mary monthly supporters are dedicated to restoring our Catholic Faith and culture, and defending traditional family values constantly under attack through Public Square Rosary Rallies, timely publications, e-mail campaigns and peaceful protests against blasphemies.
To become a Child of Mary monthly supporter please choose one of the options below:
Click on the Tabs below to find out more:
What happens when I become a Child of Mary?
You will be remembered in the Masses offered daily for your intentions.
You will receive a beautiful large Our Lady of Fatima wall poster and an exquisite Child of Mary lapel pin crafted exclusively for monthly supporters.
Your name will be inscribed on our Child of Mary plaque and hung in a place of honour at South Africa Needs Our Lady's headquarters.
You will receive free publications.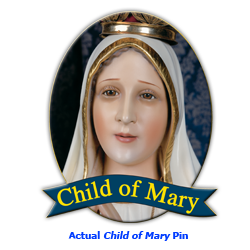 Conversion is Urgent!
Choosing your donation
How will this help?
In what way is this Our Lady's work?
What will my membership accomplish?
Furthermore
For More Information