A Feast of Our Lady for every day of the year. Featuring the theme : "Abbot Franz Pfanner of Mariannhill." Including an introduction titled: "Abbot Franz Pfanner & Devotion to Our Lady." Beautiful full colour images, prayers and quotes for every month of the year. Each month features a different mission station built by the Trappists accompanied by a short history. Bring Mary into every home with this timeless calendar! Click on image to order.
South Africa Needs Our Lady is committed to spreading the devotion to the Miraculous Medal far and wide in our land. Get your copy of this book and your free medal here.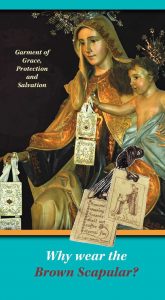 "One day through the Rosary and the Brown Scapular I will save the world." Words of Our Lady. Get your own copy here.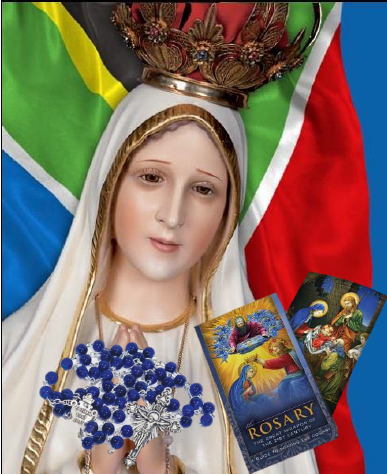 Special Limited Offer. This special offer comes with a Free Rosary Meditation Booklet. While stocks last.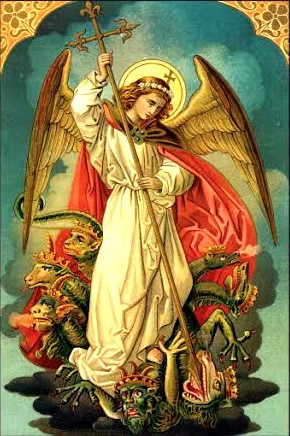 Can anyone deny that the stamp of Lucifer is everywhere evident in our world? The attempt to blot out all traces of God, and therefore Christianity, from public spaces, schools, the home, the media, the workplace, is far advanced! Everywhere there is agitation, impurity, infestation… One sees a near universal and unprecedented assault against all that is holy and sacred, manifest especially in the breakdown of the family institution. God's rights have never before been so blasphemously mocked, derided and trampled. It is an age which glories in the Anti-Decalogue! Can we do something particular to arrest the decline? Are we powerless in the midst of all the upheaval? Certainly not! But what can we do? Pray to St Michael the Archangel to safeguard us against the wickedness and snares of the devil. Click on the image of St Michael for the prayer.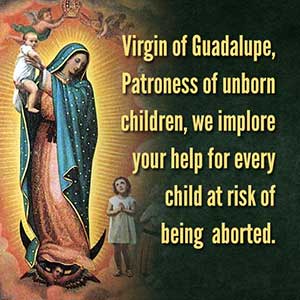 Today we find ourselves in the midst of an even more enormous and dramatic conflict between good and evil, the "culture of life" and the "culture of death." Just as Our Lady of Guadalupe intervened in Mexico and freed the nation from the grip of witchcraft and human sacrifice, so can she too "crush the serpent's head" here in South Africa – and under the title of "Protectress of the Unborn," help free our country from the culture of death! Let us not cease in crying out for her protection on behalf of our pre-born brothers and sisters. Only by imitating Our Lady's respect for life from the moment of conception can we hope to inherit Life itself. Under her gentle direction we find not only shelter and rest, but confidence and strength to go forth to battle the evil of abortion in our land. Full of confidence in her power to obtain great victories from God, let us turn to Our Lady of Guadalupe. Click on her image for the prayer to Our Lady of Guadalupe – Protectress of the Unborn