You live in a world surrounded by every type of sin and confusion. Your family is being ripped apart by every type of immoral and cultural force. You need to fight back with the power of Saint Joseph.
Try it, and find out for yourself just how powerful Saint Joseph is in tackling EVERY problem.
No one could put it better than St. Teresa of Avila:
"Saint Joseph gave me everything I asked for."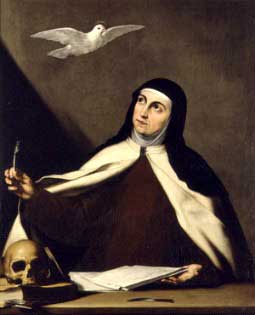 I took for my advocate and lord the glorious Saint Joseph and commended myself earnestly to him; and I found that this my father and lord delivered me both from this trouble and also from other and greater troubles concerning my honour and the loss of my soul, and that he gave me greater blessings than I could ask of him.
Novena to St. Joseph – click here
I do not remember even now that I have ever asked anything of him which he has failed to grant. I am astonished at the great favours which God has bestowed on me through this blessed saint, and at the perils from which He has freed me, both in body and in soul. To other saints the Lord seems to have given grace to succour us in some of our necessities but of this glorious saint my experience is that he succours us in them all and that the Lord wishes to teach us that as He was Himself subject to him on earth (for, being His guardian and being called His father, he could command Him) just so in Heaven He still does all that he asks.
This has also been the experience of other persons whom I have advised to commend themselves to him; and even to-day there are many who have great devotion to him through having newly experienced this truth.
I used to try to keep his feast with the greatest possible solemnity; but, though my intentions were good, I would observe it with more vanity than spirituality, for I always wanted things to be done very meticulously and well. I had this unfortunate characteristic that, if the Lord gave me grace to do anything good, the way I did it was full of imperfections and extremely faulty. I was very assiduous and skilful in wrongdoing and in my meticulousness and vanity.
May the Lord forgive me. I wish I could persuade everyone to be devoted to this glorious saint, for I have great experience of the blessings which he can obtain from God. I have never known anyone to be truly devoted to him and render him particular services that did not notably advance in virtue, for he gives very real help to souls who commend themselves to him. For some years now, I think, I have made some request of him every year on his festival and I have always had it granted. If my petition is in any way ill directed, he directs it aright for my greater good.
If I were a person writing with authority, I would gladly describe, at greater length and in the minutest detail, the favours which this glorious saint has granted to me and to others.
But in order not to do more than I have been commanded I shall have to write about many things briefly, much more so than I should wish, and at unnecessarily great length about others: in short, I must act like one who has little discretion in all that is good. I only beg, for the love of God, that anyone who does not believe me will put what I say to the test, and he will see by experience what great advantages come from his commending himself to this glorious patriarch and having devotion to him.

Those who practice prayer should have a special affection for him always. I do not know how anyone can think of the Queen of the Angels, during the time that she suffered so much with the Child Jesus, without giving thanks to Saint Joseph for the way he helped them. If anyone cannot find a master to teach him how to pray, let him take this glorious saint as his master and he will not go astray.
May the Lord grant that I have not erred in venturing to speak of him; for though I make public acknowledgment of my devotion to him, in serving and imitating him I have always failed. He was true to his own nature when he cured my paralysis and gave me the power to rise and walk; and I am following my own nature in using this favour so ill.
---