St. Elesbaan, King of Ethiopia
Feast Day: 27 October
In the 6th century Ethiopia was ruled by the black King St. Kaleb or Elesbaan (after he became a hermit), who was raised from childhood in the Catholic Faith. King Elesbaan ruled his country with wisdom and was esteemed by his people.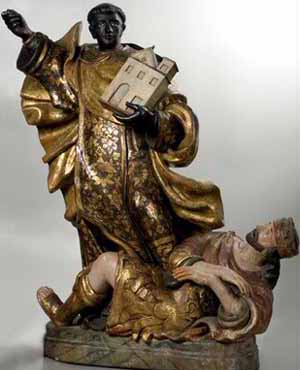 At that time Ethiopia was part of the Eastern Roman Empire, under Justinian I. Across the Red Sea, Arabia had fallen to Dunaan, a King who apostatized from the Catholic Faith and adhered to Judaism. He was a despotic ruler, persecuting the Bishops and clergy and destroying the churches or transforming them into synagogues. St. Gregentius, Bishop of Tafas, was expelled from his diocese; St. Aretas, governor of Nagran and leader of the Catholic reaction, was beheaded along with his wife, children and 340 of his people. Around 4,000 Catholics were killed without trial after suffering many cruelties.
Emperor Justinian called on King Elesbaan to chastise the usurper. The King gathered his army and crossed the Red Sea to punish the affront to Catholic honor. Elesbaan landed in Arabia, defeated Dunaan and executed him. Then he restored St. Gregentius to his episcopal see, rebuilt the churches and remained in the country until Ebrahamos, who was Catholic, was elected King of the Arabs.
Once his mission of justice and peace was accomplished, he returned to Ethiopia and ruled there for some years more, carefully instructing his son in the Catholic Religion and the direction of the Kingdom. Then he renounced his title and turned over the Kingdom to his son.
Disguised as a hermit, he retired to a monastery in the mountains. There he lived as a simple religious dedicated to prayer, obedience and work.
He died with a reputation of sanctity on October 27, 532. Often he is pictured as a solitary hermit holding a cross and with a crown at his feet.
---