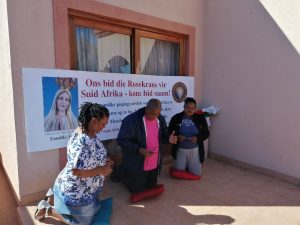 Pledge to pray the Rosary by filling in the form HERE.
Pray the Rosary at home or in a public place on SATURDAY 10 OCTOBER AND/OR TUESDAY 13 OCTOBER 2020.
Pray at 12 noon or 6pm.
Pray together especially with the children.
The situation of our country, indeed the world, is very serious and threatening… Time is running out! PLEASE contact all your friends, family and acquaintances and ask them to pledge the same.
All Rally Captains: If you have a South Africa Needs Our Lady Rosary Banner please display it as you pray on the street outside your home or in a public place. If you can pray in public – then PLEASE do so!!
If you do not have a banner then put up a picture of Our Lady or make a little shrine with a statue.
Follow the suggested Prayer Program for your Rosary Crusade in one of the 5 different languages HERE.
Send us photos of your Rosary group praying with your shrine or banners.
Support the Rosary Crusade for 2020
Sponsor the Rosary Crusade and help spread the Rosary in South Africa.
Roses and a large banner with all the Captains and Sponsors names will be sent to Fatima in Portugal.